As some of you may know one of the biggest most influential shows on TV is ending...
Fox's singing/musical loving phenomenon is taking it's final bow and leaving many of it's beloved Gleeks with heavy hearts.
For six seasons the show has followed McKinley High's glee choir group full of misfits on the road to regionals and a sense of belonging in the hash world of High school and beyond.
Now, I have been a fan of the show for about 5 years ever since I heard their cover of Journey's "Don't Stop Believing" and just from hearing that song I got interested in it. I'll be honest I did hear about the show before and always thought it was like High school Musical and never found the appeal of it.
But, I watched a few episodes and realized it wasn't like I thought it would be. The show covered topics like teen pregnancy, sexuality, bullying, peer pressure, mental illness etc. and I could relate to more than one character on the show.
The other great thing about the show was the music in each episode went along with the plot of the episode and you'd listen to a song and you' probably never really gravitate towards and it would have this sort of impact on you in a way. Over the course of 6 seasons they have covered over 700 songs ranging from all different genres from Broadway to top 40 and even put into mash up songs that you probably never thought to pair together, but it always worked.
Besides the fact that the greatest songs were being covered, there were also big name guest stars joining in on the fun, some even having recurring guest spots.
Everyone from Broadway stars:
Kristin Chenowith (April Rhodes),
Johnathan Groff (Jessie St. James)
Patti LePone
To the biggest stars in the entertainment:
Gwenyth Paltrow (Holly Holiday)
Neil Patrick Harris (Brian Ryan)
Britney Spears
John Stamos (Carl)
Demi Lavato (Dani)
Kate Hudson (Cassandra July )
Some even played parents or relatives of the cast:
Broadway and Frozen star, Idina Mendzel played Rachel's biological mom Shelby
Actors Jeff Goldblum and Brian Strokes Mitchell played Rachel's dads Hiram and LeRoy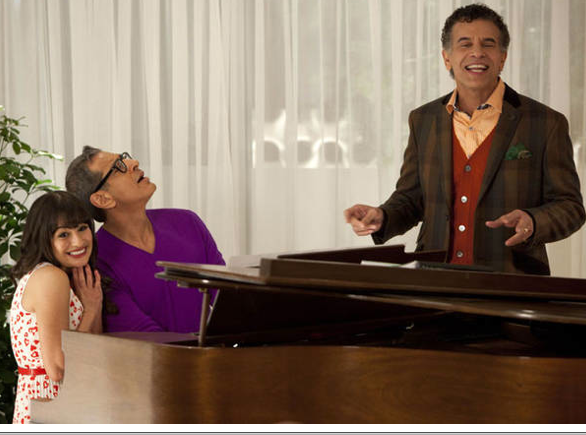 Santana's mother was played by Singer Gloria Estefan
Blaine's brother Cooper was played by actor Matt Bomer
Brittnay's parents were played by actors Ken Jong and Jennifer Coolidge
And then you had all the couples you rooted for and the love triangles that caused all the drama. Almost everyone had dated at least once.
Kurt and Blaine
Finn and Rachel
These two were another fan favorite and one of my favorites as well. Ever since that time they had at little picnic in their schools auditorium and shared their first kiss, they always brought the best out of each other. Their chemistry was so strong that the actors dated in real life and you knew they'd make it to the very end, but sadly it didn't end up that way.
Brittany and Santana